Yoga Nidra&Soundhealing Online Workshop
Mit Soundhealing beginnen wir die Reise in unser Herz und durch Yoga Nidra gehen wir noch tiefer, erkunden unser Unterbewusstsein und erfahren gleichzeitig tiefe Entspannung.
Keine Vorkenntnisse nötig.
Wann: Donnerstag, 20.8.2020, 18:30-20:30
Wo: Bei dir zu Hause -Online
Preis: 18 EUR
Anmeldung unter: info@mandirayoga.com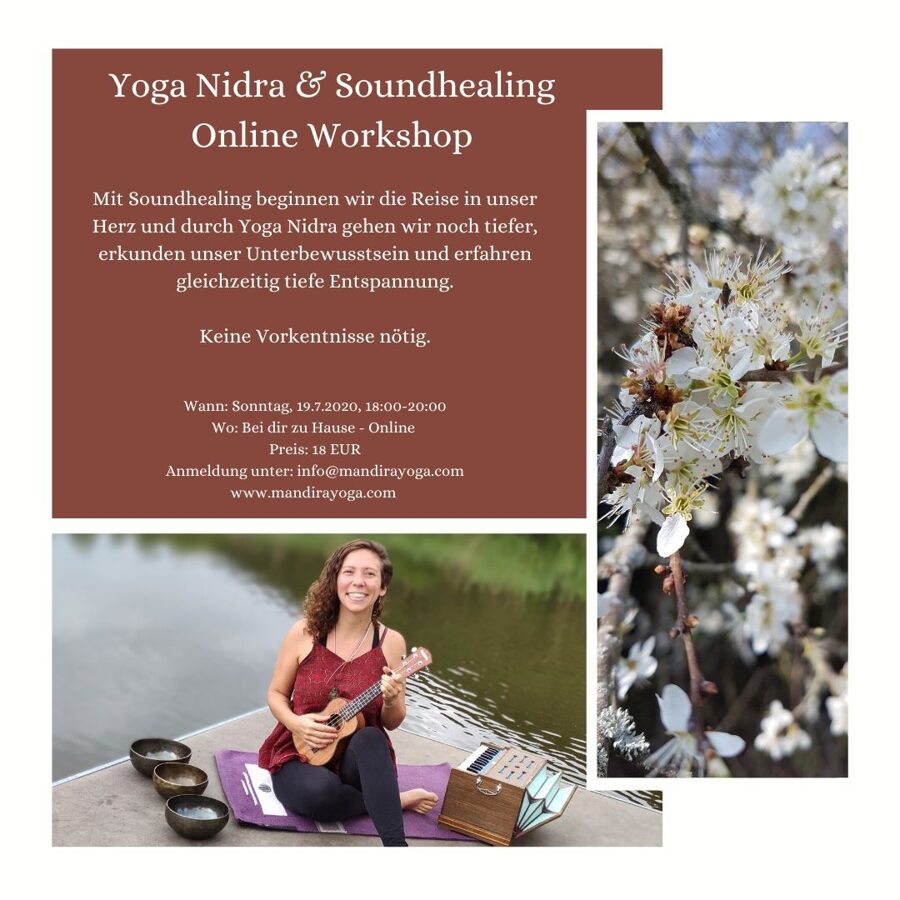 Yoga Nidra&Soundhealing

Sound, music is medicine. Through the healing effects of sound in the form of singing bowls, playing the harmonium, guitar, ukulele and our voices we start the journey inside, into our hearts.
Through Yoga Nidra we go even deeper, getting in contact with our subconscious and at the same time we experience deep relaxation.

What will you experience?

deep relaxation


therapeutical benefits: restfull sleep, powerful for stress management

get access to your subconscious

explore the hypnagogic state, the state between waking and sleeping

learn to navigate in an altered state of consciousness
When: Tuesdays, 18:15 -19:30
Where: At your home - via Zoom
Price: 8 EUR

Everybody is welcome. No prerequisites. Joining always possible.

Just drop a message to register: info@mandirayoga.com